Denk Mal am Ort
DENK MAL AM ORT is an initiative to commemorate the families who lived in our Berlin homes and were either deported or had to flee Germany in the 1930s and 40s. The family who lived in our flat are the Katzenellenbogens, a wealthy business man, who ran three furniture shops in Berlin, his wife and two sons, Ludwig and Herbert. They fled to Argentina in April 1939. Three years ago, on May 4, 2018, Ludwig, aged 92, arrived at our house with his daughter, son in law and grandson and a suitcase of documents and photos. We relived his childhood in our apartment, pieced together family events, the local neighbourhood and Nazi terror.

This year, we can only have virtual events. You find information and new films on this year's events here. There is also a small film featuring the family Katzenellenbogen on youtube. Please click here to get to photos and reporting from the last years.
Family Katzenellenbogen

The family Katzenellenbogen lived in the 2nd floor right-hand apartment in Rosenheimer Str. between 1933 and 1939. Hans Katzellenbogen described their living arrangements of the family of four – Hans and Frida with their two sons as follows:

"We lived in a comfortable flat consisting of five rooms with many extras, a lift, central heating, wooden floors. Our interior design was luxurious with modern furniture, Persian rugs, fine silverware, crystal chandeliers etc. We had two staff: a cook and a nanny."

Hans Katzenellenbogen was born in Krotoschin, Posen. He emigrated to Berlin in 1922 at the age of 32 with his sister Else and his parents. In Krotoschin he ran the shop of his father. In Berlin he took over a shop for household goods, china and glassware in Goltzstr. 37 (these days the family-run stationery and crafts Hobbyshop Ruether). This shop thrived and "blossomed" in his words. Hans Katzenellenbogen was a member of the chamber of commerce and the chairman of the local Berlin branch of the association of specialist retailers as well as a recognized expert in his field. He and his sister Else Katzenellenbogen ran two further shops in Frankfurter Allee 58 and Kaiser-Friedrich Str. 230 (today Sonnenallee) in Berlin Neukölln.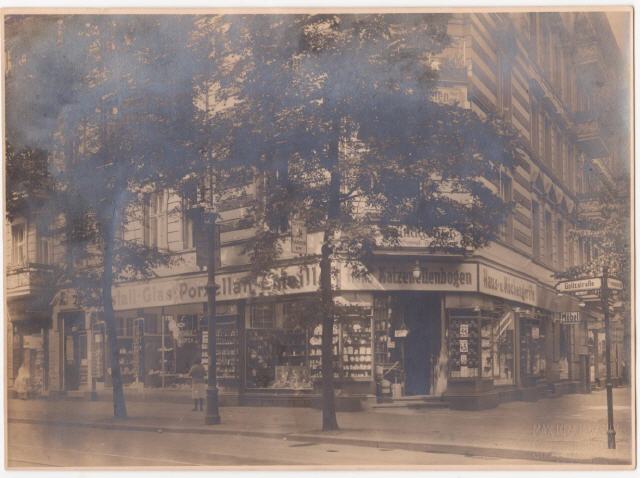 In autumn 1938, the shop in Frankfurter Allee was forcibly shut by the Deutsche Arbeitsfront. "Hans Katzenellenbogen was able to avoid being arrested by escaping with the cash till through the back door" according to a written statement by Alfred Prager, a member of the shop's staff. Afterwards Hans was under surveillance by the Gestapo and his name was mentioned in the Nazi newspaper Stürmer. In November 1938, the chamber of commerce applied to nullify his business license for the shop in Goltzstr. The shop owned by Else Katzenellenbogen in Neukölln was sold to a non-Jewish family, the Markel family.

The family Katzenellenbogen sold its property far below market price and boarded the Cap Norte ship in Hamburg on April 28, 1939 to Buenos Aires, Argentina. In Argentina they faced hardship. Else Katzenellenbogen described in their German compensation claim that she tried to set up a chicken farm and failed. They became impoverished.
The official documents that are archived by the German national authorities for compensation claims list in detail the costs for the emigration and the family's lost assets. In 1952 Else Katzenellenbogen filed a claim for restitution for her shop in Neukölln. Hans Katzenellenbogen filed a claim for compensation in the same year. For this he submitted an official document proving their impoverished conditions issued by the German embassy in Buenos Aires. In November 1960, the solicitor of Else Katzenellenbogen, Joachim von Stosch, reminded the authorities that the claim had been waiting for eight years and that his client had now reached the age of 79. In July 1961, the family is offered 9000 Deutsche Mark as compensation.
Zugriffe heute: 5 - gesamt: 845.